Summit County Builders Association Presents Check to the Summit Foundation
Summit County Parade of Homes Presented by Summit County Builders Association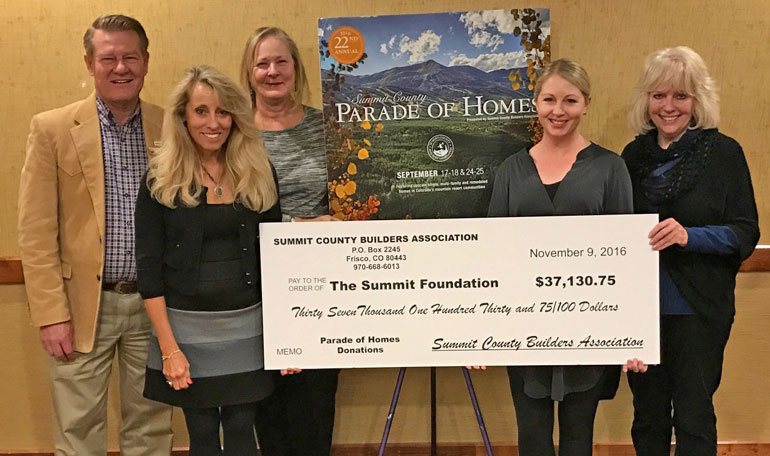 The Summit County Builders Association (SCBA) presented a check in the amount of $37,130 to The Summit Foundation at the monthly membership meeting. This is over $1346 more than last year. The money was collected from the $15 admission fee paid by individuals touring the Parade of Homes. This year had record attendance and marked the 22nd Anniversary for the Parade of Homes. Since 2005, the Parade of Homes admission donation has raised $291,695 with this year exceeding previous amounts.
Photograph on right is individuals from the Summit County Builders Association and Summit Foundation. In the photograph top from left to right: Denny Rogstad, General Manager with the Breckenridge Building Center and SCBA Board President; Marilyn Hogan SCBA Executive Officer; Linda Miller owner of Aspen Grove Kitchen and Bath, SCBA Board Member and Parade of Homes Chair; Elisabeth Lawrence, Events and Marketing Manager for the Summit Foundation; Jeanne Bistranin, Executive Director for the Summit Foundation.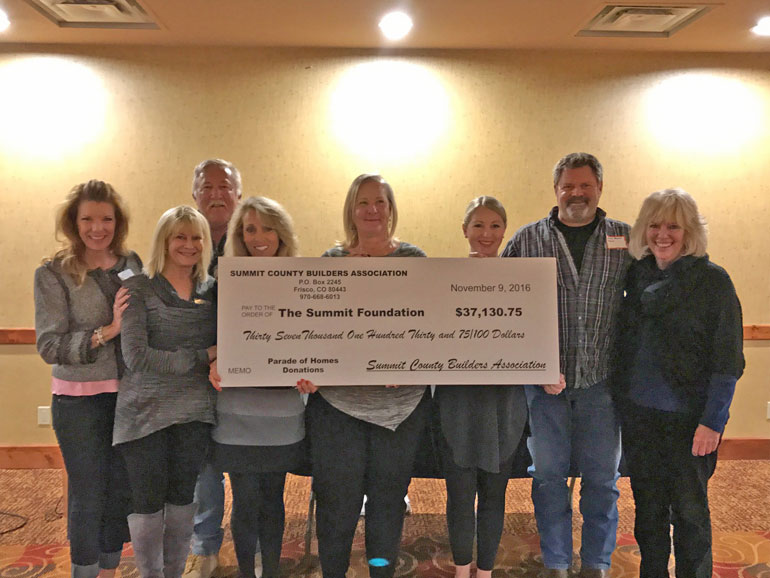 Additional members who participated by entering a home in the Parade are pictured left to right: Lauren Reuhring owner of Kitchenscapes; Lynn Myers with Harmony Interiors, SCBA Board Member and Parade Committee; Brian Wray with Mountain Log Homes of Colorado; and Blake Nudell with Travis Construction.
Dates for the 2017 Parade of Homes will be September 23,24,30 and October 1. Plan ahead and enter a home in the 23rd Summit County Parade of Homes.
Copyright © 2016 Summit County Builders Association, All rights reserved.