SCBA Donates $44,683 to the Summit Foundation
The Summit County Builders Association (SCBA) presented a check in the amount of $44,683 to The Summit Foundation.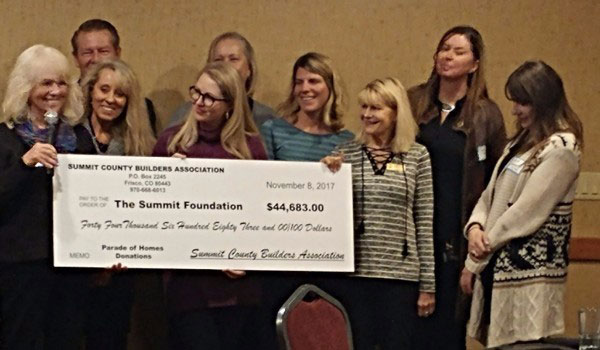 The money was collected from the $20 admission fee paid by individuals touring the Parade of Homes. This year marked the 23rd Anniversary for the Parade of Homes. Since 2005, the Parade of Homes admission donation to the Summit Foundation has raised $336,378 with this year exceeding previous amounts.

The 24th Annual Summit County Builders Association Parade of Homes for 2018 will be held the last two weekends in September. Dates are September 22-23 and 29-30. For more information about the Summit County Builders Association, visit www.summitcountybuilders.org.


Individuals from the Summit County Builders Association and Summit Foundation in the photograph at the top from left to right: Jeanne Bistranin, Executive Director for the Summit Foundation; Marilyn Hogan, Executive Officer for the SCBA; Denny Rogstad, SCBA President and General Manager with the Breckenridge Building Center; Elisabeth Lawrence, Events and Marketing Manager for the Summit Foundation and Parade of Homes (POH) Committee; Linda Miller, POH Chair and owner of Aspen Grove Kitchen and Bath; Mary Patrick Moorefield, SCBA Board Member and Construction Loan Officer with Bank of the West; Lynn Myers, SCBA Board, POH Committee and owner of Harmony Interiors; Sarah McNeill, POH Committee and Realtor with Slifer Smith & Frampton; Nikki Brook, POH Committee and designer with Harmony Interiors.